Giving Opportunity
Stop Asian Hate
Stand Together with Asian American and Pacific Islanders Against Racism
About this Giving Opportunity
Racist attacks against Asian Americans and Pacific Islanders (AAPI) across the United States must end. In Atlanta, the worst mass killing in the US in two years saw a white gunman murder eight people, six of them women of Asian descent. This horrific event is the latest in a wave of violence and an upsurge in racism towards AAPI communities across the United States. In 2020, anti-Asian hate crimes increased by 150%, fueled by a misplaced and racist sense of blame that was too often amplified by people in power. From coast to coast, anti-Asian racism, violence and discrimination have seen an alarming upswing that has spread fear across Asian communities. It must stop now.
We need to step up and stand against the racism, advocate for people of Asian and Pacific Islander heritage and call out wrongdoing whenever we see it. By supporting this giving opportunity, you'll be helping leading U.S. organizations who are dedicated to protecting the guaranteed civil rights of Asian Americans through advocacy, legal action, policy change and more. Together, we can put an end to the violence and discrimination, and build a fairer, safer America.
Specifically, your contribution will help:
Asian Americans Advancing Justice fight for civil rights and empower Asian Americans to create a more just America for all
Asian Americans Advancing Justice Atlanta protect the civil and human rights of Asian Americans in Georgia and the Southeast
Chinese for Affirmative Action: Stop AAPI Hate track and respond to incidents of hate, violence, harassment, discrimination, shunning and child bullying against Asian Americans and Pacific Islanders in the United States
National Asian Pacific American Women's Forum build a movement for social, political and structural change for Asian American and Pacific Islander women and girls
National Queer Asian Pacific Islander Alliance challenge homophobia, racism and anti-immigrant bias
Asian Pacific Islander American Health Forum influence policies and mobilize communities to improve the health of Asian Americans, Native Hawaiians and Pacific Islanders
Asian Corporate and Entrepreneur Leaders empower and uplift the AAPI community through workshops and seminars, ongoing mentorship program and professional networking
*You may not see a "MATCHING OFFER" banner and "Estimated Match" amount for this campaign, but donations are being tracked and matched in the background*
By Clicking on "Donate Now" and making a donation, you agree to Benevity's Terms of Use and Privacy Policy.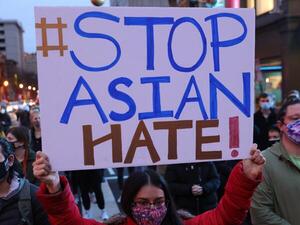 Causes in this Giving Opportunity
How Donations Work
Click any 'Donate Now' button and then decide your donation amount. You will then be forwarded to your payment processor of choice. Once your donation has been processed it will be sent to your charity of choice.
Need Some Help?